UTS Newsroom: A short path to Tropfest success for graduating film-maker
Genevieve Clay hasn't even shaken the Chancellor's hand yet and she's already won first prize in the world's largest short film festival, Sydney's own Tropfest.
Things are moving fast for the 20 year-old soon-to-be UTS graduate, who has completed her Bachelor of Arts in Communication (Media Arts and Production) with a job at the ABC already in place and now national recognition as a film-maker thanks to the recent Tropfest win.
With a prize package worth more than $100,000, including a trip to Los Angeles to meet film executives, the production assistant for JTV can continue following some advice she got from director Baz Luhrmann when she met him while working as a waitress – "Get out there and make stuff."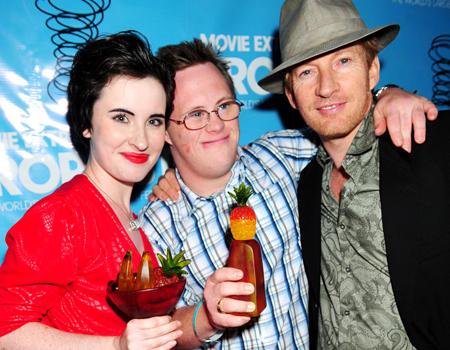 Photographs courtesy Tropfest: Belinda Rolland
She won't be scratching for ideas with another short film in pre-production and a feature film script based on her own experiences waiting in the drawer.
Genevieve's winning film Be My Brother sprang from a documentary she made last year for Down Syndrome NSW during which she met her lead actor Gerard Odwyer (who won the best male actor prize at Tropfest).
She was inspired by Gerard's vivacity and photographic memory for dialogue and decided to write a script to showcase his talent and ability as an actor. In Be My Brother he plays a young man who challenges the prejudices of a stranger waiting at a bus stop and touches the heart and mind of someone else close by. 
Newcastle-born Genevieve was initially focused on a career in acting, but her Media Arts and Production studies swung her firmly towards storytelling. She told the Newcastle Herald, "I like being on screen but I would not want that in my career. My career is in making the movie."
Genevieve said she owed a lot to her lecturers in the Faculty of Arts and Social Sciences.
"Greg Ferris mentored me over the three years of my course and with Andrew Taylor helped me build the skills I need to reach my goals," she said. "UTS provided both the facilities and the encouragement to make Be My Brother."
A live audience of more than 150,000 saw the 22 February Tropfest finale, beamed via satellite to venues in Sydney, Melbourne, Canberra, Perth, Hobart, Adelaide, the Gold Coast and Brisbane.
This year was also the first TV broadcast of the event via the Movie Extra Channel, bringing it to an audience of over one million Foxtel and Austar subscribers.
The panel of eight celebrity judges included Vince Colosimo, David Wenham, Rachel Ward, Mia Wasikowska, Emily Browning and last year's winner Michelle Lehman.
It will be Genevieve Clay's job next year, along with producing a trailer to promote the 2010 festival.