The Herald: Genevieve Clay-Smith NSW Young Australian of the Year 2015
HUNTER native Genevieve Clay-Smith has been named the 2015 NSW Young Australian of the Year.
The filmmaker and social entrepreneur, 26, is the co-founder of not-for-profit organisation Bus Stop Films, which teaches members of diverse and marginalised communities how to create short films that voice their experiences.
''I'm feeling very overwhelmed,'' Ms Clay-Smith said after the awards were announced in Sydney on Monday night.
''I'm so excited to use this award to raise awareness for the things I stand for, to have a platform to advocate for people who are marginalised.  You don't understand someone's potential until you give them an opportunity to rise to the occasion.''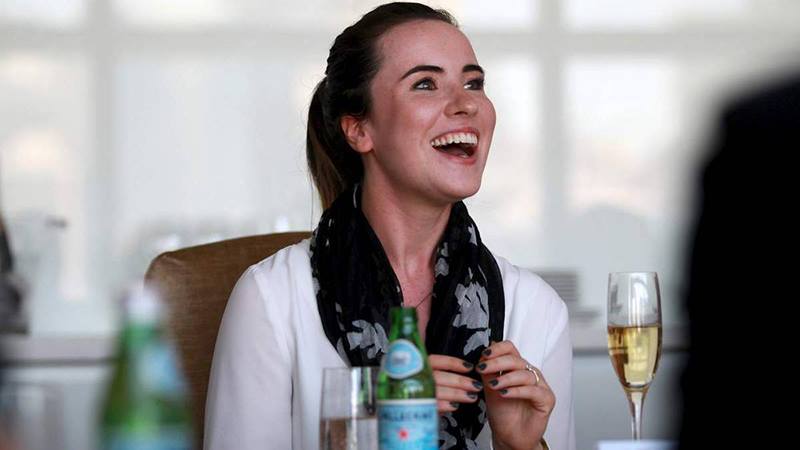 Ms Clay-Smith grew up in Cardiff South and attended Hillsborough Public School, where she had her first introduction to the disability sector through the school's buddy program. 
She co-founded Bus Stop Films in 2009 after winning Tropfest with   Be My Brother, which broke down social stigmas surrounding disability while also engaging people with a disability to fulfil roles as crew members. She is currently working with 12 of her intellectually disabled students on a film called Heartbreak and Beauty, in which they share their experiences of love and loss through poetry, dance and visual metaphor.
Ms Clay-Smith is also the co-founder of Taste Creative, which provides students with paid employment on film sets. She worked with two members of the South Sudanese community last year on another short film, I am Emmanuel,  which examined the challenges faced by African Australian refugees and was screened internationally.
Other recipients included child advocate and adoption campaigner Deborra-lee Furness, who was   named the 2015 NSW Australian of the Year.
The actor, director and producer has been recognised for her campaigning for the rights of children in Australia and around the world.
Ms Furness, who has two adopted children with actor Hugh Jackman, established the National Adoption Awareness Week in 2008, building the campaign from a grassroots level.
This year she launched Adopt Change – a campaign to overhaul Australia's anti-adoption culture and lobby for national adoption law reform.
''As a World Vision ambassador, Deborra-lee has worked with world leaders, travelling through Asia and Africa to raise awareness of the global orphan crisis,'' the Australian of the Year selection committee said.
''Determined to use her profile to support causes close to her heart, Deborra-lee is focused on helping the thousands of Australian children needing loving homes.''
She was unable to attend Monday night's ceremony at the Museum of Contemporary Art but is now eligible to be selected Australian of the Year.
Prolific children's author and current national Children's Laureate, Jackie French, was named NSW Senior Australian of the Year.
The Diary of a Wombat author has won more than 60 literary prizes and is a director of The Wombat Foundation that raises funds for research into the endangered northern hairy-nosed wombat's preservation.
The NSW Award recipients will join recipients from the other states and territories as finalists for the national awards, to be announced on January 25 in Canberra.