Screen NSW: Genevieve Clay-Smith smashes one dimensional portrayals of intellectual disabilities with her new film Kill Off staring American Horror Story's Jamie Brewer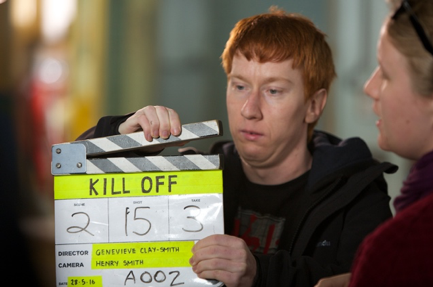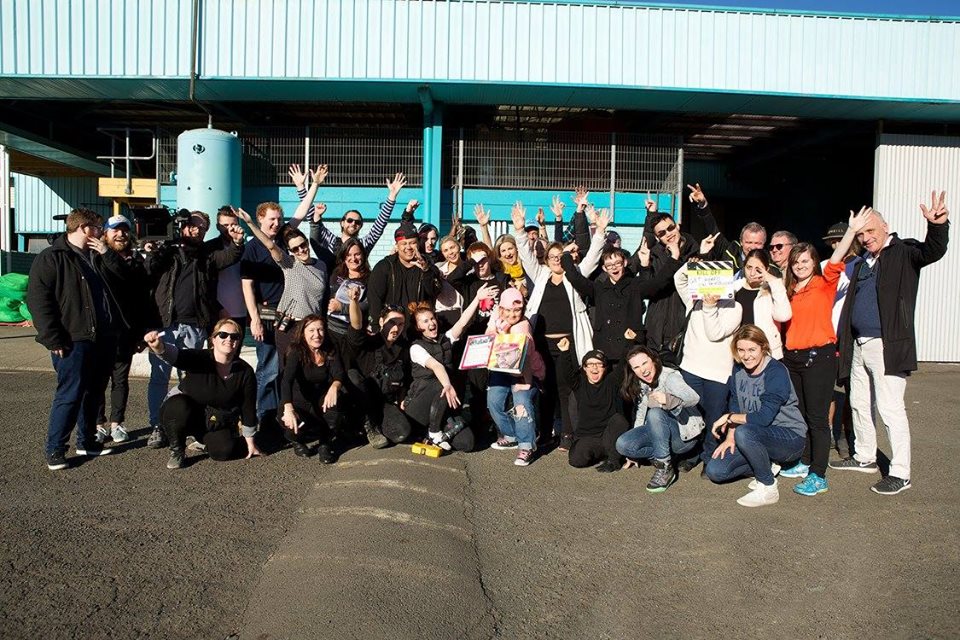 Genevieve Clay-Smith is a millennial with a career that spans the film industry, not-for-profit industry and advertising. She's a business owner, mentor and an award-winning writer/director, with work showcased nationally and internationally including the United Nations. Her new film, Kill Off, screening at Flickerfest this month stars Jamie Brewer (American Horror Story) as Sonja, a woman with an intellectual disability who forms an unlikely friendship with a Sudanese refugee through their mutual love of KRUMP.
How does it feel to have Kill Off selected in Flickerfest – an Academy Award qualifying festival?
The entire team behind Kill Off is absolutely thrilled. This project was inclusively made with a class of 11 people with an intellectual disability working on set with mentors to make the film.
The fact that it has been selected to screen at one of Australia's best film festivals is a real statement to the fact that being inclusive in the film industry is possible. There are a lot of stigmas concerning the inclusion of people with a disability in the workforce. Some of those stigmas include that it will be too hard, it will compromise on quality, and that it will slow things down. We love making projects that smash these stigmas and show the broader industry what is possible!
As you mention Kill Off deals with quite complex themes including the stigma that people with disabilities face, grief and racism. Why did you want to explore these themes?
A lot of times, people with intellectual disabilities are portrayed as very one dimensional, and passive within film. We wanted to showcase a dynamic character in Kill Off with an intellectual disability trying to cope with grief in her own way.
We also wanted to draw parallels between the experiences of marginalised community members. Doing this helps audiences think about the concept of disability through the "social model" – the social model of disability says that "disability" is caused by the way society operates. Through this lens we perceive disability as external barriers to access and societal attitudes rather than anything that can be embodied. For instance, a person who uses a wheelchair might not feel or think of themselves as disabled at all until they are faced with a set of stairs – the stairs in this case, are the disabling force, not the person's method of movement.
Many refugees in our society face barriers to full inclusion because of illiteracy, racism, post-traumatic stress disorder (PTSD), diaspora and more. These issues are disabling for people and something we, as a society, must explore to ensure that everyone is included and has access.
Furthermore, we wanted to explore how, no matter what body you are in, nothing can separate us from our shared human experience of grief. Grief is something that binds us all together. It unmasks us and when we are vulnerable with one another. We can forget that there are differences between us.
Kill Off is a Dance Dramedy. Why did you decide on this genre to tell this story?
KRUMP dance and the KRUMP movement, the style of dance featured in the film, is something I have been fascinated by for a number of years. It is a form of dance that is all about releasing anger and emotions. It's an extremely expressive dance, which has its own culture and language. All the characters in Kill Off need to express themselves in some way and using KRUMP was a really interesting mode to explore this. It also brings about universality between the characters, who are all different from each other but can connect through dance and expressing their emotions.
American actress Jamie Brewer (American Horror Story) stars in Kill Off as the lead role. Can you tell us how she came to be involved in the project?
Our Co-Founder and board member, Eleanor Winkler, worked on a project with Jamie in LA. While we were casting, Eleanor thought Jamie would have the right energy for the character, so we asked the class if they would be interested in working with her, and they said yes (there were a few America Horror Story Fans in the class). Jamie loved the fact we were making the film inclusively so it was a wonderful experience for everyone involved. It also meant we could do some advocacy events for more inclusion in the film industry while she was in town, which was great too. We held an event called An Evening with Jamie Brewer; Thoughts and Reflections on Diversity and Inclusion in the Film Industry and we held a social event with her, Jamie Brewer meets members of the Up Club!, she was such an encouragement for everyone, she really helped students understand they can have high expectations of themselves.
Prior to the Kill Off shoot the Bus Stop Film's students were involved in 10 months of film studies and production workshops. Why did you feel this was important to do and did you see a transformation in your students after these workshops were completed?
Our film studies program seeks to use arts education as a means to help build the capacity of people with an intellectual disability (ID). We use film studies as a means to help increase work ready skills, life ready skills, social skills, English skills and confidence.
It is so important that we provide innovative and intellectually stimulating programs for people with an ID. Unfortunately, there is not much out there. Many programs for people with an ID, simply act as a way to fill up time. Access to tertiary level education for people with ID is virtually non-existent.  When a young person with an intellectual disability is unable to access higher education or find a program that is intellectually and creatively stimulating, it disables them, it stifles their ability to realise their full potential, understand what they are truly capable of and further their interests and life goals.  
Our curriculum is built upon a philosophy of having high expectations of our students, we do push them outside their comfort zone, but it is amazing when they can walk the red carpet at the end of the year and say, "I did it!"
We saw incredible transformation in the lives of the students involved in our film studies program and making Kill Off. In our 2016 survey we were overwhelmed by how much the students got out of the project. 92% said the project and course significantly boosted their self confidence, 96% said that their work ready skills had improved.
Some of the comments were:
"I loved gaining more of an understanding about films such as how background, costume and make up help us to understand a character. I also enjoyed the lighting excursion to the Australian Cinematographers Society."
"My favourite part was meeting each week with my friends and learning about filming, it was lots of fun."
"My favourite part for me was the weekend away in Unanderra shooting our movie as I was able to experience what it's like to work behind the scenes and how much work is involved in making a movie. My other favourite part would have to be our movie premiere night where we showcased Kill Off and walked down a red carpet which was an amazing experience and so cool and I felt like a Hollywood star. Also on that night I presented a speech introducing Kill Off and what I've been doing during the course and what I've learnt and I did that in front of about 1000 people and did it even though I was nervous and I was so proud of myself for having that confidence."
Also, we have been able to send many students to film festivals to represent the film and also receive awards on behalf of the class, so the engagement doesn't stop when the film is done.
How did you finance it and where did the idea come from?
We had been given grants from FACS to make film projects since 2012. Previous projects funded through FACS include The Interviewer and Heartbreak and Beauty.  We found out that in 2016 we would receive our very last grant of this nature to make a short film project because FACS was dissolving.
Because of this, we thought we should make the most of the opportunity and make something that could lead onto a bigger project for Bus Stop (perhaps our first inclusive feature film). At the start of the program, we had a briefing with our students and their parents to talk about the project and gauge if the students would be interested in making a 'proof of concept' short film based on a feature film the company had in development called Baby Cat. The students thought it would be a fun project to do so we moved forward on the idea.
From the feature film script Baby Cat, we developed a one-page outline for a short film that explored three of the feature film's characters. From the outline, we held scriptwriting workshops with the students where they helped contribute to dialogue. We held KRUMP research workshops to get the language right and write the dance moves, and we also held casting, costume, production design, lighting, grip and make up workshops (just to name a few). We even wrangled a Skype call between the students and script consultant Bobette Buster in LA who works with Disney-Pixar. We held an excursion to the Australian Cinematographers Society, Panavision and Big Bang Sound Design too.
When we were locking the script off, students all came up with names for the title of the film and voted on what they wanted it to be called. One of our amazing students Tanya Vilevska, came up with Kill Off and the class voted on it.
Then we travelled down to Unanderra for a two-day shoot and overnight stay. When we came back we had post-production workshops with our wonderful editor and the amazing team at Big Bang Sound Designs then it was time for the screening. You can watch some of the process here: The Making of Kill Off
Where are you at with the Baby Cat project?
The Baby Cat script has been optioned to a wonderful producer and we hope that Bus Stop can make its first inclusive feature film within the next few years. Fingers crossed!
What do you help audiences will gain from watching this film?
I hope audiences will think more broadly about the experience of people with intellectual disabilities and I hope some of the preconceived ideas that they might have about intellectual disability will be challenged.
What's next for Bus Stop Films?
Our latest project, I Am Black and Beautiful will be having its World Premiere at a very cool festival which we can't yet disclose. I Am Black and Beautiful, is a short film project produced through our 2017 documentary film studies program for people with intellectual disabilities. The project was designed to integrate cultural studies, world politics and documentary studies into a program for our students, across 11 months.
We worked with emerging Afro-Australian director, Hawanatu Bangura to bring the project to life, along with the class tutor and producer, Sarah Jane Johnson.
We were extremely interested in bringing together our students with the Afro-Australian community to learn more about another culture, research techniques, documentary modes, racial issues, feminism and more.
2018 will be our first year operating under the National Disability Insurance Scheme. We will run three filmmaking programs at the Australian Film Television and Radio School and we'll teach approximately 46 students (not counting the ones who will enrol in our regional program).
I personally will be moving out of teaching, I've been teaching classes for many years and held my first inclusive filmmaking workshop in 2007, so I'm excited that students will be working with new filmmaker-tutors to learn about film studies and make film projects. We are working closely with Daniel Monks, and providing production services to his upcoming short film Broken, and will be doing a co-production with an incredible organisation called Murmuration.
We will be collaborating with the Southerland Shire Council in February and March to conduct filmmaking workshops for local young people during youth week. And also, excitingly, we will be partnering with a regional disability service organisation and licensing our curriculum to produce the Bus Stop Films program regionally.
We are also excited by a couple international projects that are on the agenda, but not yet ready to fully disclose.
Kill Off is screening at Flickerfest in its Best Of Australian 2 – 2018 program |  Sat 13 Jan, 8.45pm: http://bit.ly/2AL82Dr
Images – 1. Rawley Reynolds learning the clapper, 2. The whole team