Now to Love: Genevieve named a judge in the 2019 Women's Weekly Women of the Future Awards!
Do you, or does someone you know, have a dream for the future? Do you know a young woman helping to make the world a better place? We are calling all future trailblazers for our 2019 Women of the future nominations.
This year
The Australian Women's Weekly
and AGL are searching for three young women who are driven by a desire to bring positive change to the lives of others and achieve success in their chosen fields. 
This year, we are on the hunt for a young woman trailblazing in each of the below categories. If she wins, she will win $35,000, as well as a full page advertisement in
The Australian Women's Weekly
to promote her cause.
The categories for this year are: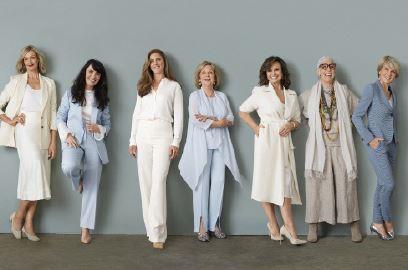 Photo credit: Women's Weekly

This year's Women of the Future judging panel will inspire and encourage our 2019 entrants. The Weekly's Editor in Chief, Nicole Buyers, 2015 winner Genevieve Clay-Smith, AGL Executive General Manager Lisa Harrington, Ita Buttrose, Lisa Wilkinson, Ronni Kahn and Julie Bishop.
To enter, tick which category your cause mostly embodies and tell us in 250 words or less about yourself and how you would use the prize to achieve your dreams and benefit others in the form below.
Full terms and conditions are available at
www.bauer-media.com.au/aww-women-of-the-future-2019
/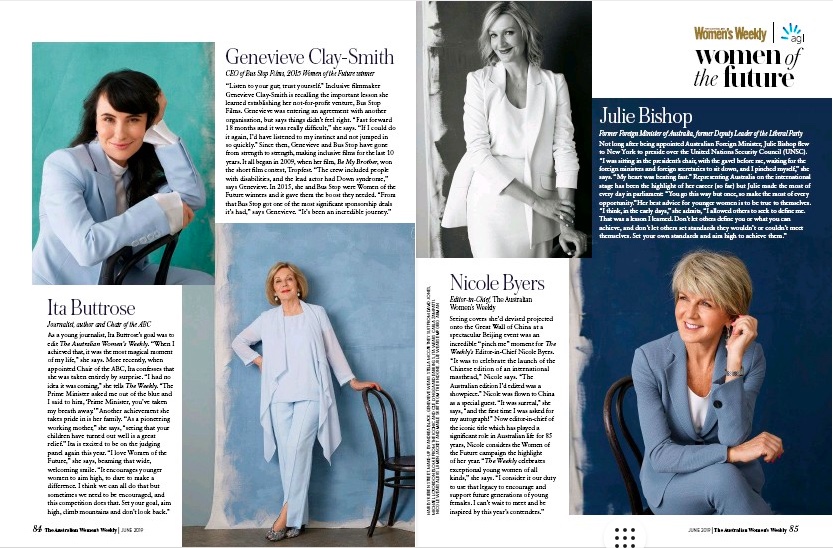 Genevieve Clay-Smith, CEO of Bus Stop Films, 2015 Women of the Future winner
"Listen to your gut; trust yourself."
Inclusive filmmaker Genevieve Clay-Smith is recalling the most important lesson she learned establishing her not-for-profit venture, Bus Stop Films.
The young filmmaker was entering into an agreement with another organisation, but things didn't feel right.
"I had a feeling this wasn't going to be an easy ride," Genevieve says. "Fast forward 18 months and it was really difficult. If I could do it again, I would have listened to my instinct, and not jumped into that so quickly."
Since then, Genevieve and Bus Stop have gone from strength to strength, making inclusive and diverse films for the last 10 years.
It all began in 2009, when her film,
Be My Brother
, won the short film contest, TropFest.
"That was the first inclusive film I made. The crew included people with disabilities, and the lead actor had Down syndrome," says Genevieve.
In 2015, she and Bus Stop were among the Women of the Future winners and it gave them just the boost they needed.
"From that exposure Bus Stop got one of the most significant sponsorship deals it's had," says Genevieve, "It's been an incredible journey."