By Business Chicks
Genevieve Clay-Smith has spent her career telling stories of diversity and inclusion. 
Growing up Genevieve always knew she wanted to be a storyteller. While studying at the University of Technology Sydney she was given the opportunity to make a documentary for Down Syndrome NSW, a move which ultimately changed the course of her career. Genevieve realised the serious lack of representation of people with disabilities in media and was inspired to create the short film 'Be My Brother,' which won Tropfest in 2009.
Genevieve has gone on to have a serious impact on the international stage in television and short film. In 2009, she co-founded the not-for-profit organisations Bus Stop Films, and Taste Creative in 2010. Bus Stop has made over 25 inclusive films and been screened at over 200 festivals globally. Taste Creative has created projects across film, animation, design, and branding for companies such as P&O Cruises, Australian Post, Qantas, and the ABC. Genevieve was named the 2019 Telstra Australian Business Women's Emerging Leader Award winner (and it's not hard to see why!). We sat down with her to talk about her passions, dreams, and how she handles being an industry leader.
What did you want to be growing up? 
I wanted to be a storyteller. This took the form of being an actress [early on], so I did a lot of amateur theatre when I was a kid. I really found a lot of confidence in doing theatre and it built my self-esteem. I was always writing too. I'd say a storyteller was definitely what I wanted to be and at times that was being an actress, at times that was writing, but always telling stories in some way.
You developed an interest in representing disability on the screen when you were employed to make a feature-length documentary for Down Syndrome New South Wales in 2007, how did that come about? 
When I was at university, I landed my first film making job with Down Syndrome New South Wales. I ended up spending 18 months documenting 6 people with Down syndrome and their families as they were going through this program to achieve their life goals. Some people wanted to move out of home, some people wanted to get a job in an office, and they were establishing a network of support around them to help them do that.
I saw how easy it was to achieve these life goals because people were opening up doors of opportunity and not standing in the way. I realised that a lot of the barriers to inclusion that people with disabilities face in society has everything to do with other people's attitudes and low expectations.
"Ten years on, it's exploding, and we're making a difference. It's been a very exciting journey to see that transformation in the industry."
One of the participants in the documentary, Gerard O'Dwyer, goal was to be an actor. He had the ability, talent, skills and the desire to be an actor. I knew it would be quite difficult for him because when I looked at our film and television landscape, I didn't see any representation of disabilities. There were no pathways for people with disabilities to get involved in making films. A recent study came out from Screen Australia that said that 18% of our population has disabilities but we only see 4% of characters with disabilities on our screen.
There was no representation, so I decided to make a short film with Gerard. He starred in the lead role. I also wanted to get people with disabilities working in the crew roles as well. That film ended up winning Tropfest in 2009, and Gerard won Best Actor. That kind of catapulted us into wanting to see more representation, and really work at the film industry in terms of making it more inclusive of all people. It's the industry of shared stories and if we're missing people in the stories we are telling, we are not doing a service to our society. We need to see everyone represented.
Take us back to that moment when you won 'Best Film' at Tropfest back in 2009. What was that like? 
It was really, really wonderful. It was an incredible accolade. We won a very prestigious festival with an inclusive film and smashed some stigmas that really prevent people with disabilities from fully participating in life and work.
Particularly in the workforce, there are these stigmas that prevent people from being involved. Those stigmas are that it's going to be too hard, that it's going to slow things down, and that it will compromise on quality. We made this short film fully inclusively with people working on set. It didn't slow us down as we finished an hour ahead of schedule, it wasn't hard, and it didn't compromise on quality as we made a very good film.
It was very exciting to make this film and do it differently and see that you can create inclusive films and they can be great. We started this journey of inclusive film making off the back of the award.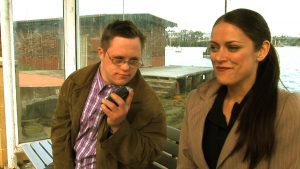 Have you always been passionate about diversity and inclusion?
I didn't have any expectations before I made the film, I just kind of applied to the job and thought it would be a great opportunity to be a paid filmmaker and to get a paying job. I didn't realise that it would have such a profound impact on my understanding of the barriers to inclusion that people face, to my understanding of the industry that I was a part of, and how exclusive it was to anyone outside the status quo. I was just kind of drawn to representing these stories because there is a gap in those stories being told, and there still is. I thought that it was really unjust that the industry of storytelling was exclusive to only telling one kind of story, the stories that are a very small portion of our society.
Tell us why you created Bus Stop Films… 
The Tropfest win was the catalyst for Bus Stop as a not-for-profit organisation. From that first film, we have definitely grown. We have 60-70 people every week studying our program at the Australian Film, Television and Radio School (AFTRS), we have made over 25 inclusive films, screened at over 200 festivals around the world, and screened at the United Nations. We've sent people with intellectual disabilities, who have been a part of making those films, all over the world including Russia, Japan, America, New Zealand to participate in these mainstream festivals. Ten years on, it's exploding, and we're making a difference in the film industry. We are facilitating employment for people with disabilities in top Australian productions and are partnering with the top production companies to make sure people are getting work and getting their foot in the door. It's been a very exciting journey to see that transformation in the industry.
You co-founded Taste Creative to help organisations raise awareness about the importance of inclusion and diversity in the workforce. What campaign are you're most proud of? 
I was really proud of a two-year campaign that we did with Australia Post called the 'Real Stories Project.' It was about unearthing positive stories of inclusion in the workforce at Australia Post, finding stories and adapting them into narrative fiction films.
That was a great campaign because we were celebrating real people's stories and we were transforming them into these fun films. We got on ABC iView, various film festivals, and Qantas inflight entertainment. The message of inclusion went beyond the workforce at Australia Post, it infiltrated audiences that are flying on Qantas or watching the ABC. That was just great to see the wide reach of those stories and watch it have an impact.
How do you spend your time between your two companies?
It is a mishmash depending on the season. I recently handed over my CEO role at Bus Stop to a new CEO, so I implemented my exit strategy. That was a big achievement for me; handing over to someone else after reaching a decade in the driver's seat. It has been a really interesting time of readjusting and recalibrating what's next. It was a massive race to the finish line; I knew that I didn't have much juice in the tank left for that role. I wanted to hand over the organisation to good hands.
When you start a not-for-profit organisation, one of the biggest challenges is sustainability. It has always been my goal to make sure the organisation is sustainable and that it can survive and be handed on. It's been a big task this year, but I am so happy with the results. Our new CEO, Tracey is doing an incredible job. Every day is different, and I work on a variety of different projects. Some of it still crosses into Bus Stop land, some of it crosses into Taste land, some of it crosses into another land, that has nothing to do with either company. It's an exciting kind of portfolio of work that I'm very passionate about.
What's been the biggest pinch-me moment of your career?
Any time when we are sending a student overseas or interstate, and they are getting to participate in a festival with other filmmakers is always a pinch-me moment.
We are transforming the industry from the grassroots up. I also think the first time we ever employed people with intellectual disabilities on a commercial film, and the partnership that was formed with AFTRS, are both pinch-me moments that all help with the overall transformation that we want to see in the industry.
The team and I have been pinching ourselves and going 'we're doing this, we're at the forefront of this change,' and that's something to be really proud of.
You've won many accolades, including a Telstra's Business Women's Award. What was it like winning the Emerging Leader Award? 
I won that on my tenth anniversary of being the CEO of Bus Stop, I think it was really special because of that. This journey has been a journey I wasn't expecting to take; I never thought I could do something like this. I've had to learn so many business skills from scratch and dig deep at times to find the answers, be confident, trust my gut, and learn from others. It was a wonderful pat on the back – it was lovely recognition for all that hard work.
What has winning a Telstra Business Women's Award done for your career and your business? 
I think it been great exposure for Bus Stop. Every awards program I have been involved with, the goal is to get exposure for Bus Stop and meet helpful people that can come on the journey and be involved in that vision.
At the national Telstra Awards I chose not to speak. I said a couple of things then I got one of our students from Bus Stop to advocate for inclusion and use the speech as an opportunity to talk about inclusion from her lived experience with disability. It's a good platform to share a message that you might be passionate about. It was great, she did such a good job. She has an amazing story and she did an exceptional job of advocating.
Do you have a mentor?  
I have several mentors, and I don't think you can do a business journey without mentors. Why go through a problem that somebody has already gone through, and try to work it out on your own?
I have several mentors that I have constantly gone to that have advocated for me and been an advocate for my career in the marketplace. My journey is definitely not a solo one, I owe a lot to people that are much older and wiser than me, and are very kind to believe in and advocate for me in their own networks.
The business journey is hard one. I just think that it's so important to find people that believe in you, will go through the journey with you and be a phone call away when you've got a question.
Did you ever imagine you'd be where you are now? 
Not as a teenager! I didn't think I would wake up and have grown an organisation. I just didn't think I could do that. I grew up in a household where there was no entrepreneurial spirit modelled to me, there were no business people in the family. When I decided to start the journey, I pretty much just didn't know what I was getting myself into. Slowly but surely things grew, and my business partners and I kept at it, and now here we are a decade later.
The short answer is definitely not!
Nominations are open for the 2020 Telstra Businesswomen's Awards. If you know an exceptional women inspiring change, say thank you by nominating her today at telstrabusinesswomensawards.com/nominate. Telstra Business Women's Awards, celebrating 25 years of progress.