Beat Magazine
13 May, 2021 WORDS BY TAMMY WALTERS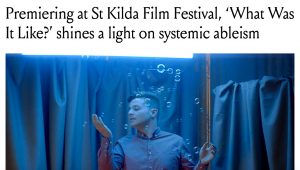 The new documentary explores how children with disabilities are treated within the healthcare and education systems.
Award-winning film director and producer, Genevieve Clay-Smith, has joined the bill for St Kilda Film Festival to premiere her latest directorial work, What Was It Like?.
What Was It Like? sees eight filmmakers with intellectual disabilities interview their parents about their story and experience of what it was like when doctors delivered the news of their diagnosis.
"They're asking them about what they were told when they were born, what the doctors said when they were diagnosed, and they also ask them what it was like in other stages of their childhood development when they were told about their diagnosis of disability," explains Clay-Smith.
"The goal of the documentary is to expose the impact of how ableism in the medical system and in the education system, and in these systems that we entrust our kids, really deeply and profoundly can impact and traumatise families."
In these raw, emotionally charged conversations, families reveal how deeply misguided, dismissive, unempathetic and traumatic their treatment from health care professionals, doctors and specialist consultants was, reducing human life down to a category division: normal vs abnormal.
"It was so hard to hear certain things from their doctors and educators assuming what their child was going to be capable of and basically saying horrible things about their child, which turned out not be true in the slightest," Clay-Smith says.
"[Through this process, parents] actually found that they weren't alone and that their stories were similar in what they experienced and the conversations they had.
"There was a little bit of restoration in the experience, maybe healing if you like, but it was raw. The families and the filmmakers were deeply passionate about using their story to shine a light on this issue, so it was quite incredible to watch their bravery and their vulnerability."
While the interviewees all sit within the mid-20 to early 30 age bracket, this experience is still current, with medical and educational systems still operating under the same delivery methods, using the hurtful language, implying negative connotations around genetic configurations, and ultimately building and assuming parameters around individuals' abilities.
"The sad thing is nothing has really changed. These stories are still around even now. Families of younger children and babies still get told worst-case scenario prognosis' that diminish the expectations for that person's life completely.
"Even just in the medical system when you are or when you are looking to get pregnant, the language around, 'Your baby is normal' or, 'We're looking for abnormalities' – that language is so present and so very entrenched and engrained, and it filters into then if a child with disability is born predicting what that person is capable of or what they person cannot do," Clay-Smith reveals.
"We can do this a different way and it's important we do, because the long-term impact of these conversations with doctors is very traumatic on families and often wasn't warranted."
Funded by Shark Island Institute and directed and produced through her inclusive production company Bus Stop Films, which boasts a rich roster of filmmakers, actors, and producers with intellectual disabilities, What Was It Like? aims to spark a conversation around the diagnosis process in medical and educations systems, ultimately leading to a well overdue change.
The topic of exploration stems from her integrated professional and personal relationship with people living with disabilities. Clay-Smith has delved into the social and humanitarian issues pertaining to the disability section throughout her filmography.
From SBS On Demand mini-series Perspective Shift, Beautiful and Inclusion Makes The World More Vibrant topics of social segregation, inclusion in the workplace, inclusion in school and education, physical access, and opportunity barriers have been highlighted.
"I've had very strong relationships with people in disability for over 13-14 years now, forging strong friendships and working relationships through filmmaking and have been an ally, and hopefully a good ally, to people with disabilities, specifically people with intellectual disabilities," she says.
"I've heard so many stories around these issues and it's been on my mind for a long time to create a film where we can expose this issue and prove that the 'issue' doesn't have to be an issue and we can change the attitudes, language and perceptions in these industries that have a major impact on our lives, both medical and education."
With St Kilda Film Festival serving as the platform for premiering What Was It Like?, Clay-Smith, the filmmakers, and their families are excited to share their story with a wide Australian and international audience across the festival's digital screening platform.
"We didn't set out to make it so nobody would see it. We want as many people to see it as possible and to hear the stories. It's a really wonderful opportunity to be featured in St Kilda.
"I really hope it makes people think differently and I hope it encourages that might have had the same experiences, that they are not alone and I hope people start robust conversations around why we have a medical and education system that underestimates people with disability"
What Was It Like? premieres Friday May 21 at St Kilda Film Festival as part of the Moving Portraits program and is available to watch digitally until Saturday May 29. Find out more here.
Read the original article here