Collective: Lights Camera Taking Action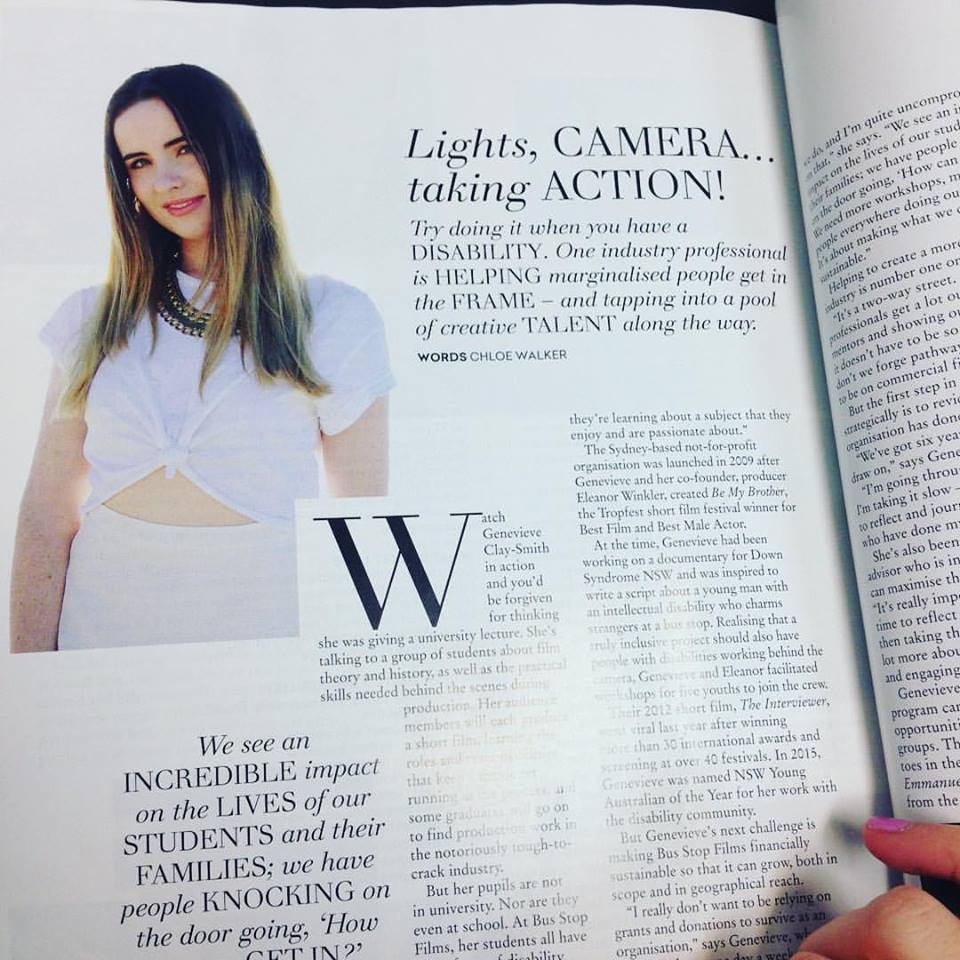 Published in Collective Hub issue 25, September 2015 and syndicated by The Vocal
Try doing it when you have a disability. One industry professional is helping marginalised people get in the frame – and tapping into a pool of creative talent along the way.
Watch Genevieve Clay-Smith in action and you'd be forgiven for thinking she was giving a university lecture. She's talking to a group of students about film theory and history, as well as the practical skills needed behind the scenes during production. Her audience members will each produce a short film, learning the roles and responsibilities that keep a movie set running in the process, and some graduates will go on to find production work in the notoriously tough-to-crack industry.
But her pupils are not in university. Nor are they even at school. At Bus Stop Films, her students all have some form of disability.
"I think it's important not to underestimate people," says Genevieve. "We teach things like film theory, mise en scène, genres and the different roles on set. We find that a lot of people really improve in their written and verbal communication skills because they're learning about a subject that they enjoy and are passionate about."
The Sydney-based not-for-profit organisation was launched in 2009 after Genevieve and her co-founder, producer Eleanor Winkler, created Be My Brother, the Tropfest short film festival winner for Best Film and Best Male Actor.
At the time, Genevieve had been working on a documentary for Down Syndrome NSW and was inspired to write a script about a young man with an intellectual disability who charms strangers at a bus stop. Realising that a truly inclusive project should also have people with disabilities working behind the camera, Genevieve and Eleanor facilitated workshops for five youths to join the crew.
Their 2012 short film, The Interviewer, went viral last year after winning more than 30 international awards and screening at over 40 festivals. In 2015, Genevieve was named NSW Young Australian of the Year for her work with the disability community.
But Genevieve's next challenge is making Bus Stop Films financially sustainable so that it can grow, both in scope and in geographical reach.
"I really don't want to be relying on grants and donations to survive as an organisation," says Genevieve, who leads the workshops one day a week while spending the rest of her time at Taste Creative, the production agency she runs with her husband Henry Smith. But while Bus Stop might be a passion project, Genevieve has big plans for the future.
"I have a particular vision for what we do, and I'm quite uncompromising on that," she says. "We see an incredible impact on the lives of our students and their families; we have people knocking on the door going, 'How can we get in?' We need more workshops, more trainers, people everywhere doing our curriculum. It's about making what we do scalable and sustainable."
Helping to create a more inclusive industry is number one on Genevieve's list.
"It's a two-way street. Our professionals get a lot out of being mentors and showing our industry that it doesn't have to be so closed up – why don't we forge pathways for these people to be on commercial film sets?"
But the first step in moving forward strategically is to review everything the organisation has done so far.
"We've got six years of data that we can draw on," says Genevieve.
"I'm going through that carefully, but I'm taking it slow – giving myself the space to reflect and journal and talk with people who have done my course."
She's also been working closely with an advisor who is interested in how businesses can maximise their social impact.
"It's really important that I take a lot of time to reflect on what has worked, and then taking that to a person who knows a lot more about business models than me and engaging their help."
Genevieve is also looking at ways the program can give a voice to, and create opportunities for, other marginalised groups. They've already dipped their toes in the water with the film I Am Emmanuel, produced with a cast and crew from the Sudanese community in Sydney and recent winner of Best Australian Short at the Human Rights Arts & Film Festival.
One of Genevieve's mentees on set was Noel Franco, a young man who grew up in the notorious Kakuma refugee camp in Kenya, and who had aspirations of becoming a cinematographer. Noel made an impression on the film crew and the gaffer helped him get a role in the grips department (which coordinates lighting and rigging) on the Angelina Jolie-directed war biopic, Unbroken. Since then he's worked on a number of feature film and commercial TV projects.
Another student, one of the actors from I Am Emmanuel, was recently accepted into the National Institute of Dramatic Art (NIDA) on the back of his performance in the film.
"Seeing those guys go out and one of them getting into NIDA, another getting on a film set – that's incredible," says Genevieve. "They're doing great things for their communities; they've become role models."
Watching her students land professional work is incredibly rewarding, but Genevieve is particularly proud when she's able to provide those opportunities herself through employment at Taste Creative.
Recently Nathan Basha, a Bus Stop student of three years with Down syndrome, joined the company part-time as team assistant, helping out around the office as well as on set. He's also a burgeoning public speaker, travelling to the US, UK and Singapore this year to speak.
"He's extremely passionate about film," says Genevieve. "He loved film theory and has a very analytical mind. After three terms of class his beautiful mother, Jo, came up to me teary-eyed, thanking me for helping him find something to be passionate about."
Genevieve's pride is palpable.
"When I can get my students involved in further work experience it's a real kick," she says. "I'm really interested in sustainable mentorship connections and helping people who usually face barriers to inclusion in the creative arts and the film industry get a foot in the door… And in that respect I think what we have is unique and that's why we're getting a lot of attention."