Australian Financial Review: White bread performance won't cut the mustard
Genevieve gives her thoughts to the Financial Review on the need for more inclusion and diversity in the film industry.
Jamie Brewer, the star of US television hit American Horror Story, flew to Australia in late May to spend a weekend making a short film, just south of Sydney. Filming finished ahead of schedule – usually unheard of – and so far, the director says, the rushes look fantastic.
Brewer has Down Syndrome and 11 of the crew have intellectual disabilities. They're also students at director Genevieve Clay-Smith's Bus Stop Films production company.
"That weekend dispelled a few stigmas about inclusion, both on a film set and in the workforce generally, that it's too hard to employ a person with a disability, that it will compromise on quality, and that it will slow things down."
The question about what role entertainment plays in reflecting and reinforcing societal values in being asked more frequently than ever. A huge amount of research is being done on the issue, including the largest census of film dialogue in history.
Researchers at US website Polygraph matched every line from 8,000 films to an actor to determine how many films are about men, how many are gender or culturally diverse, and whether era or box-office revenue makes a difference. They also gender analysed the number of words spoken across 2,000 scripts.
"Researchers reported that men speak more often than women in Disney's princess films," the team said about their data.
"We validated this claim…Even [in] films with female leads, the dialogue swings male." In the heroine story Mulan, they said, Mulan's male protector dragon has 50 per cent more dialogue than she does.
Clay-Smith, who was a 2015 Woman of Influence in the Young Leader category, says part of the problem about broadening representation on screen or on stage is that if there's no diversity in the production and creative teams, there's little chance diversity will be authentically represented in the finished product.
That is changing faster for women in the industry, with Screen NSW and Screen Australia putting in place measurable targets, as well as women-specific funding through its new initiative Gender Matters.
Male takes on women's tales
Director Shannon Murphy is in Melbourne on the set of Ten Network's hit Offspring. Her work spans theatre and screen, and she says while change is happening, stereotypes and the archaic male-dominated versions of stories are still prevalent.
"A lot of stories in films and TV are driven by a market, be it for male teenagers and their love of robots, or stories for women that will sell small Toyota cars. Theatre seems to be male dominated because it is so insular, clubbish and just damn difficult to sustain over long periods.
"In theatre it's important we stop retelling old male stories. I don't care if the lead is a woman, the perspective is often inaccurate and outdated.
Hedda Gabler, Miss Julie, Medea, Mourning Becomes Electra – they all sound like they'd be female stories but they are an old male perspective and they are completely hysterical representations and often sexist. I guess I would prefer to see these works re-imagined by women."
Murphy, who is one fifth of The Dollhouse Pictures, which includes Rose Byrne and Gracie Otto, says it is vital to choose carefully which stories should be told in order not to reinforce negative stereotypes.
New formats free up story-telling
She describes The Dollhouse Pictures as a collective of friends and colleagues who aim to produce female-oriented work that is still accessible and enjoyable to make.
Part of what makes this an easier task than in the past is the proliferation of alternative storytelling formats, including short films, streaming platforms and the web, that provide space for independent ideas and expression.
That's also something Clay-Smith believes is the tipping point for changing the way people are represented on screen and in theatres.
"The moment you put yourself at the mercy of a studio or television channel controlling your story, you have to do what they want you to do, which is fine because that's part of the job."
How much the drive through independent productions will rub off on larger studios is yet to be seen, although both women agree there is much more positive action happening in the industry.
Last week the ABC premiered its Indigenous Sci-Fi series Cleverman, to rave reviews in Australia and America, where it is screening simultaneously.
Heroine's journey more fluid
For Murphy, some of the difficulty in generating popular roles and characters for women is that the typical "Hero's Journey" model of storytelling is inherently male. "It has a cleaner, more defined morality, and ends and means," she says.
"Individuals have different experiences so it's difficult to speak in blanket 'female experience' terms, but I would say the female journey in storytelling is possibly more emotional, fluid and with a different kind of reactive interaction. Perhaps less idealistic, more realistic."
White bread cookie cutter casting is something that frustrates Clay-Smith, and members of the minority communities she works with.
She points to Rolf de Heer's 1998 Dance Me To My Song, written by and featuring a woman with cerebral palsy, in a love triangle with a man and another woman.
"That shows a really authentic representation of disability. It's not that usual story often perpetuated in cinema about the idea of being a 'super cripple' and having to overcome your disability," she says.
"The funny thing is, these characters make such rich compelling stories because their experiences are so unique."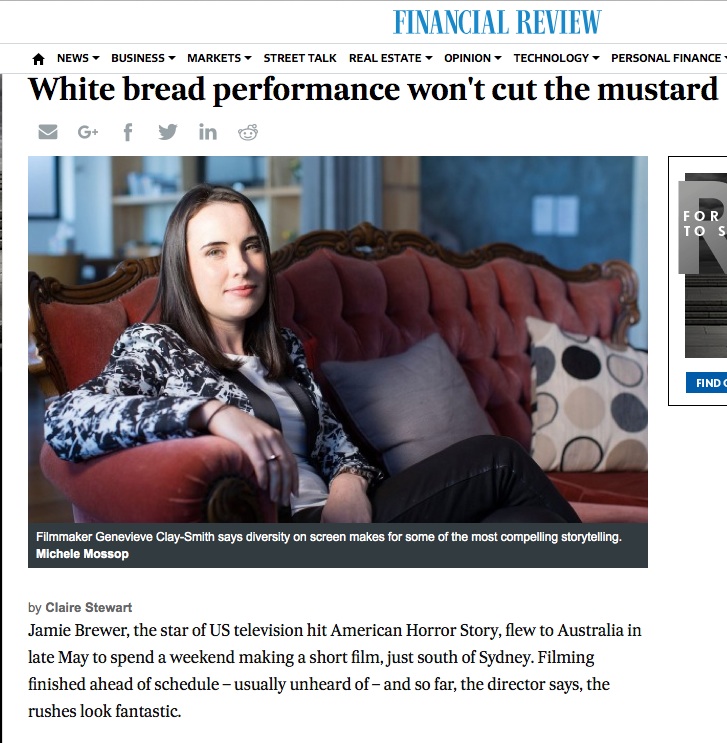 Your content goes here. Edit or remove this text inline or in the module Content settings. You can also style every aspect of this content in the module Design settings and even apply custom CSS to this text in the module Advanced settings.